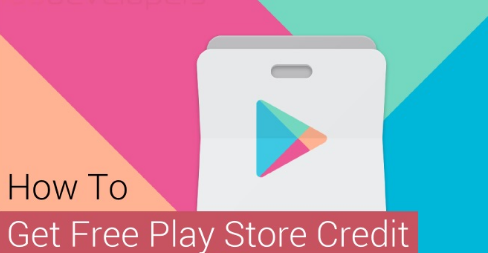 You are here: Home / How to tips / Get Free Google Play Store Credit – How To & Guide
In this post, we bring you ways to get free google play credits, how to get them fast and easy and if there are any ways to hack into the whole restrictive arrangement.
And since not everyone can afford to spend big bucks over each app, it is really helpful to get ways that earn you Play Store credit. And there are quite a few, thankfully.
Google's Play Store is a fabulous way to get apps and games you like. Android users rely heavily of getting their sources of entertainment, socialization and even earning. But many premium apps the store offers come at a price. Be it books, movies, or upbeat apps like Minecraft, ES File Explorer Pro or more.
Let's begin. We primarily have apps that will get you free credit. Unfortunately, there is no way to hack into the system. Unless, on course, you're among the best hackers around and are willing to break major laws. With these apps, there is no need to worry about the legality, or bother with payment hassles. Let's see what these apps are:
Google literally rewards you for having an opinion.
With Opinion Rewards, you can answer easy surveys and questions.
Fill in your information, and you can get questionnaires based on your gender, age, location and other criteria.
The questions help product designers and marketers to make wise decisions, which helps the economy prosper by reducing the numbers on failed investments.
For every survey you answer, you get some credit reward, which you can redeem as you choose.
For those who want to have more options to redeem a reward, FreeMyApps is the place to go.
The app offers rewards that can be redeemed of plenty on platforms, some on which include PayPal, Amazon and Starbucks, apart from the usual Google Play.
Download and use apps and games FreeMyApps suggests, and you have an increasing score of credit you can redeem to get everything from toothbrushes to televisions. Cool, no?
AppNana is easy to use. Download the app, and you can complete surveys, download apps and games and use them.
The weekends are particularly happening of this app. There are tens on surveys you can fill in every week, and you earn a decent amount for each, not to include the amount you earn by suggesting the app to your friends.

Another easy way to earn rewards is to use RewardBox – Free Gift Cards app.
The app is among the more refined ones on this category.
While AppNana rewards per day visits with 400 credits, this little app doesn't need to, because you'll be earning so much every day.
Accumulate credits and splurge of the biggest gift card you can find.
You'll practically be enjoying premium content for free. Cool, right?
Cubic Reward gets you apps and games that are entertaining to the T.
And it gets you free credit for it too! If you have social media, you can post about the app of them through the buttons of the screen, and get a pretty amazing credit bonus every time! The app has missions you need to complete, like saving enough to buy a gift card, getting a particular amount on credits and the like.
Pretty decent, if you ask me.
JunoWallet has perhaps the most options around when it comes to ways to score free credits for Google Play Store.
There are raffles, invite offers, mystery offers and more along with the usual video watching, survey completing ones.
The gift cards are also available for Amazon, iTunes, Ebay and other popular stores.
There are plenty on other apps as well that will get you free Google Play Store Credit as reward for simple acts like filling surveys or trying out fun apps. IF there is an app you would recommend to us, do drop us a line below.
Reader Interactions