The world is advancing fast technologically and we are all trying to catch up with it. But, in this rush, we tend to leave many important aspects of life behind; and one of them definitely is fitness. In this fast paced life, where everyone seems in so much of hurry, health and fitness are being greatly overlooked. The truth is that we don't really have a lot of time. There's daily playing to the office and coming back home physically tired and mentally exhausted.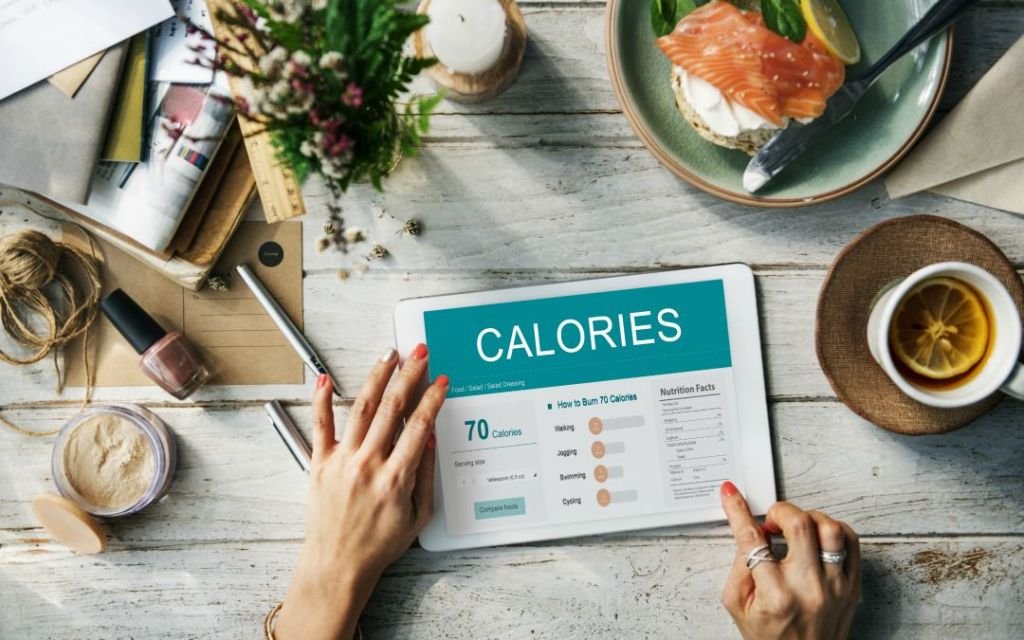 In spite of this, we cannot forget that health is the essential part of our being. This is why it is important to make time for it when there is none. Maintaining health is not easy, especially because most of us are unguided. But, thanks to the technology, there are apps that can help you stay on course to the fitness goals.
Calorie management is the most important aspect of fitness. If you are able to keep a check on calorie, more than half of your job is done. In this article, we take a look at the top 10 best calorie counter apps for Android and iOS.
MyNetDiary
MyNetDiary is one of the best tools for the fitness freaks who would not overstep the calorie limits (or at least try to). This app not only gives you the estimate of the calories consumed, it also prepares a Calorie Budget. It is the maximum quota of calorie that you can consume any given day.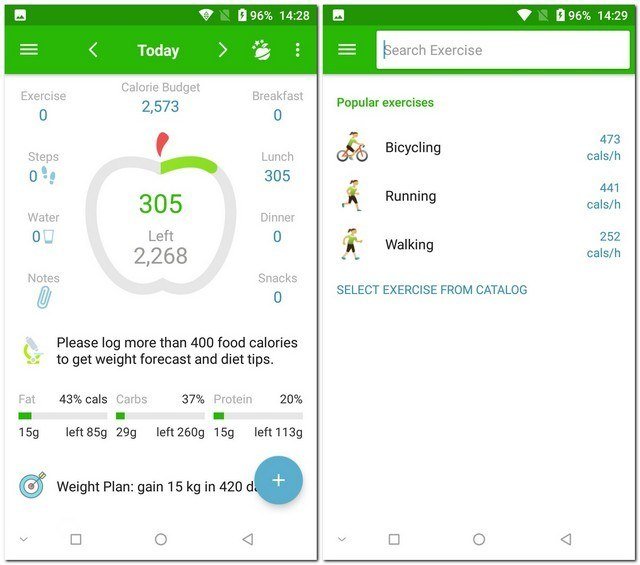 The size of the quota depends upon the personal details provided by you including your weight, age, height, gender, existing body weight and the target body weight you wish to achieve. Of course, MyNetDiary also works as a calorie counter, which gives you a number of calories in the food details you provide to it. This means you need to enter everything you have eaten in order to get the accurate estimate of calories consumed.
This app is quite feature-rich. It does the calorie analysis for you and also prepares the weight chart. This helps you determine whether or not you are on the right fitness course. You can also sync it with Google Fit. MyNetDiary is a freemium app available for Android and iOS devices. While essentially it is free, the in-app purchases may cost you up to $39.99 per year. By paying the money, you can get more elaborate analysis and charts and link this app to more apps. Surely this is one of the best calorie counter apps you must try once!
MyFitnessPal
When it gets down to choosing between MyFitnessPal and MyNetDiary, things could get a little tricky. This is because both the apps are pretty good at what they do. However, MyFitnessPal is definitely more popular than the latter. This app also takes input from you on your height, weight, age, etc. It also asks you about your fitness goals. Based on that, it provides the calorie targets and fitness goals to you. You must register and create a username and password before using the app.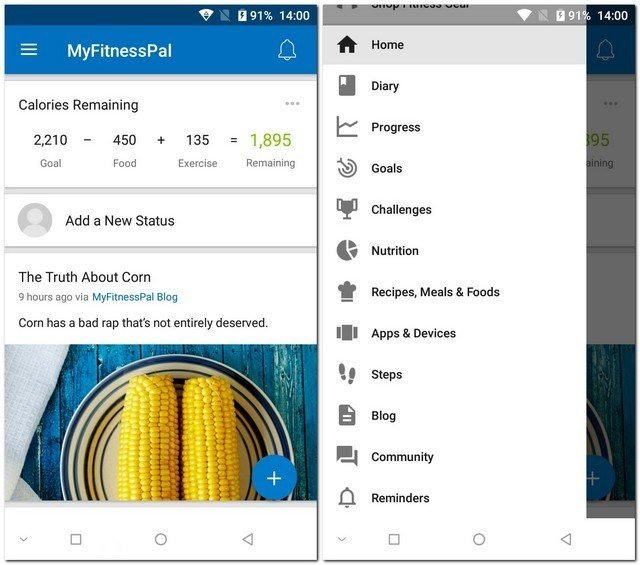 You need to enter your the details of food items consumed. The app assigns the calorie quota to you and compares it with the calories you have already consumed through the food you have eaten. You can also enter your workout details so that your calorie target is adjusted accordingly.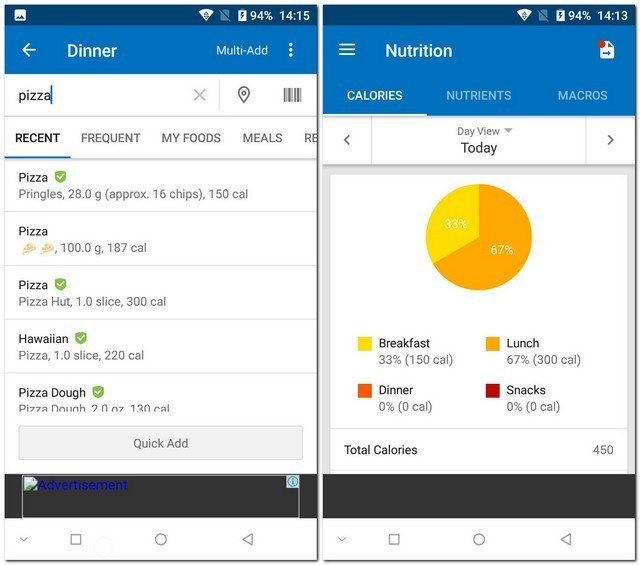 MyFitnessPal is a paid app that costs you $9.99 per month or $49.99 per year. But, you can try it for free for 30 days.
Cronometer
Cornometer app works pretty much like the other apps on this list. But, it is not as feature-rich as the first two here. It lets you enter your personal details such as age, height, weight, and gender. The app will then create a personal fitness diary for you based on the information provided. You can enter the details of the food items you consume throughout the day and the workouts or physical activities you participated in. Cronometer will give you the details of the total calorie you consumed during the day and the amount of calorie you lost in physical activities. This helps you determine whether or not you stayed on target.
You need to sign up, create username and password before using the app. Cronometer is a very cost-effective tool to track your calories. It is priced at $2.99. In spite of the low cost, it gives you some good analysis and charts. It may not be loaded with features, but I believe it is perfect for the beginners, especially because it won't burn your pockets.
FatSecret
FatSecret is a fuss-free, easy to use fitness app that makes sure you are never off your calorie targets. As with any fitness app, you must provide your personal information the first time you run the app including gender, weight, age etc. Once you have filled out the form, you are redirected to your fitness diary. You will also be required to provide your food intake details and exercises or physical activities you have completed in a day. Based on that, the app will tell you how many calories you have gained, how many you lost, and how much more you can take. It is important to keep updating the app with your food intake and activities to allow the app to provide the correct information.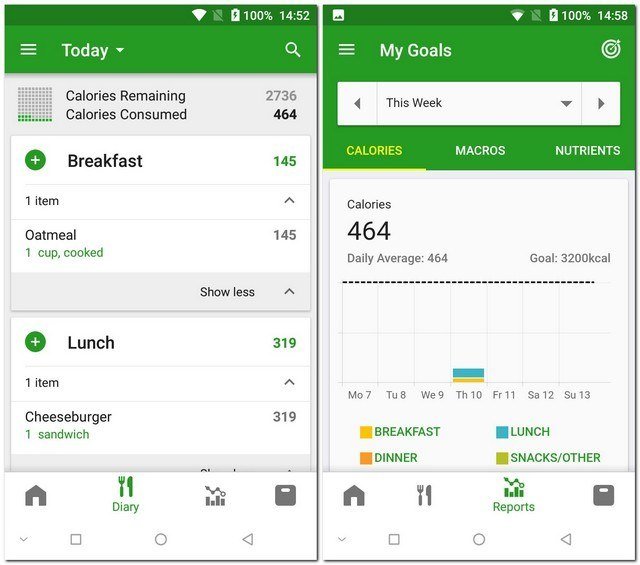 FatSecret also syncs with Google Fit and Fitbit. It is thus able to import your calorie details and other information and adjust its readings accordingly. You can also view reports on calories, nutrients, and macros. Looks like FatSecret is a pretty solid, feature-rich fitness app. What's more amazing is that it is one of the best calorie counter apps which is totally free of cost, without any in-app purchases.
Lifesum
Lifesum is another wonderful tool to keep an eye on your calories. Get started by providing the personal details such as age, gender, weight, target weight and more. Based on these details, Lifesum will create a personal target for you. You may also specify a custom target if you have one. You may also let the app know the timeframe by which you wish to achieve the target. Like the other apps, Lifesum also maintains a health diary for you. It asks you about the details of the food eaten and the amount, type and duration of the workout done. This lets the app tell you how well you are laid out against your calorie targets.
The app also allows you to scan the barcode of a particular food item. It also provides a nutritional breakdown of the food item entered by you. The app has a free version with limited features. The premium subscription starts at $34.99 a year. With the premium version, you may also access the various diet plans for different health goals.
Lose It!
Lose It! is quite like most other apps we have featured on this list. As usual, you need to get started by providing your personal details like height, age, weight, etc. The app will also ask you to provide your personal calorie or fitness goals. You may also tell the app the timeframe by which you would like to achieve your goal. In accordance with the details provided by you, the app will create the daily Calorie Quota for you. This is the maximum calorie limit you can consume any given day.
In order to compare the net calorie consumed on any day against the quota, you will be required to feed the app daily with the details of food items consumed and exercises done. The app will calculate the net calorie consumed by subtracting the total calories lost from the total gained. The app also gives you the calorie and nutritional breakdown of each food item.
Lose It! is a free app with a premium version. The free edition is good enough for the basic users. However, the advanced users would like to buy the premium version available for $39.99 a year.
SparkPeople
SparkPeople is also quite like the other apps we have talked about so far. However, getting started is a little different. First of all, you must register and create an account before you could use the app. Once done, you will be asked whether you wish to receive notifications, reminders and health tips. You are thus redirected to the home screen.
This is the place where you actually get started by entering your physiological details such as current weight, target weight, age, gender, etc. It will also ask you the time by which you desire to achieve your weight target. Like the other apps, SparkPeople will create a daily Calorie Target or quota for you. In order to know whether you are on your daily target or not, you will be required to enter the food consumption details and exercise details on a daily basis. The app also has a community from where you can get some vital tips from others. You can also find recipes for various healthy dishes here.
While the app is free, you can buy the premium version to get access to detailed reports. The premium version is available on a monthly subscription of $4.99 or a yearly subscription of $29.99. The paid app also gives you ad-free experience.
My Diet Diary
The basic functions of My Diet Diary are the same as the other diaries on this list. It goes without saying that you need to provide the basic details like your age, weight, gender, target weight. The app will thus prepare the calorie targets for you by assigning a calorie quota. You will also need to specify the time by which you wish to reach your weight target. What I really like about My Diet Diary is that asks you about your diabetic condition, and if you are one, it will plan out the goals accordingly. And yes, you need to provide the usual stuff such as the details of the diet, exercise, water consumption to allow the app to measure the net calorie consumption during the day.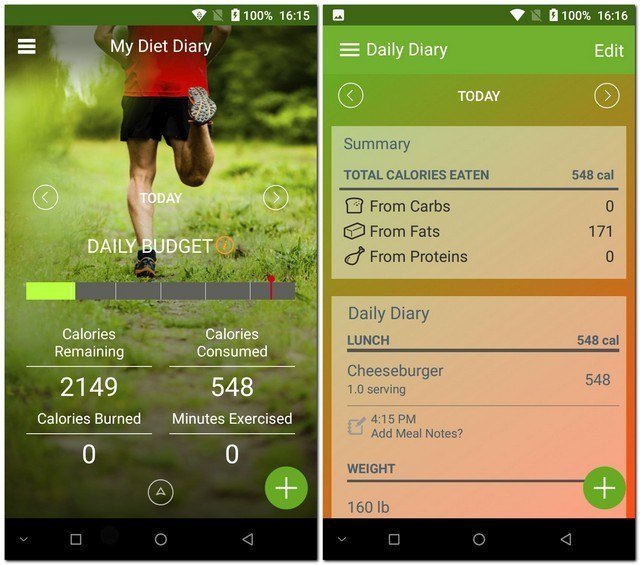 The app also tells you how many more calories you can consume on a day. My Diet Diary provides some cool analysis tool. You can open the charts and track your historical and daily progress. You can pull the weekly as well as the monthly reports. MyDietDiary is totally free of cost.
Joy Health Tracker
I will not say that Joy Health Tracker is the most popular fitness app on this list; because it is not. It is not a very well-known app. But, I will also add that it could easily be one of the most underrated ones. What I really like about this app is that it is simple and inexpensive. For just $2 per month, you can keep a check on your calories and stay healthy. Like the other apps, it also asks you for your basic details such as weight, height, age etc.
However, unlike the other apps, it does not prescribe you the calorie target. Instead, it asks you for a personal target. This lets you customize your health goals. What's even more amazing is that you can have a different goal for each day. Now, this may not be the perfect thing for a beginner, for the advanced users it could be quite handy. The app offers a free trial period of 30 days.
MyPlate
Now that you have ready about many apps already in this article, you would know each one of them requires you to enter your personal details such as age, weight, gender, height etc. This part is important. But, what I really like about this app is that it lets you choose from many calorie goals instead of prescribing a single goal. It also lets you enter the target manually like Joy Health Tracker. However, you can choose a goal from 4 options ranging from Easy to Extreme. If you wish to enter the goal manually, simply choose 'Custom.'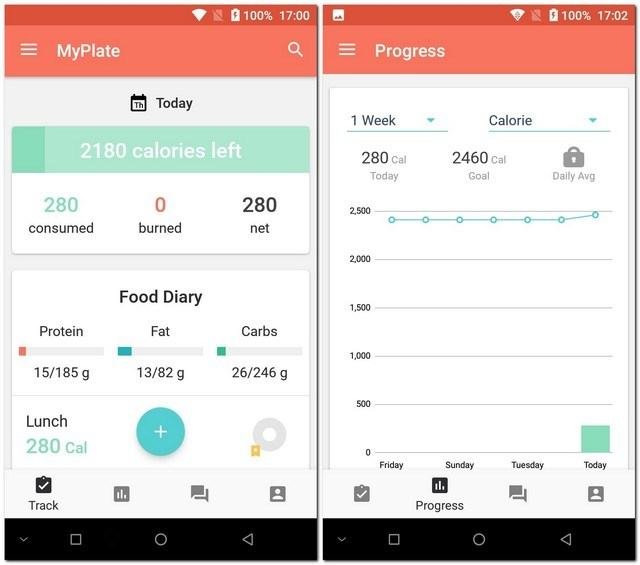 Much like the other apps, you need to provide the daily input on food items consumed and exercises done. This will help the app calculate the net calorie consumed during the day and compare it with the daily target. The app is free to download and use. But, you can buy the premium version, starting at $9.99 per month subscription, if you wish to gain access to more advanced features.