Screen recording has become quite a trend over the years, especially among the gamers. A gaming enthusiast would love to showcase their expertise to the world by uploading the game play video on the social media sites and YouTube. Screen recording, however, isn't just for video gamers. It is also needed to create online tutorials.
There are plenty of screen recording utilities out there in the market. Some are free, others are paid. Some storm to the forefront with horns blaring, waving a lofty price tag. Others make their way quietly and yet steadily. Filmora Scrn by Wondershare seems to belong to the latter category. It hasn't exactly been the most popular screen recording tool, but over the last few years, it has made its presence felt quite well. It is affordable, easy to use, and effective. In this article, we review this screen recording tool. Keep reading!
SCREEN AND VIDEO RECORDING
Filmora Scrn by Wondershare is offering some truly exciting screen and video recording features. Here is a quick look at some of the top features:
High Frames Per Second (FPS) Recording
Filmora Scrn is a standout among the top screen recording applications for a variety of reasons; the most important one being its ability to capture the screen at up to 120 fps. That's the feat no other such tool manages to parallel. Most screen recording tools offer the highest fps of 60.
Higher FPS could be quite handy when you need to create slow-mo videos of the recording. Imagine recording the fast paced, latest Call of Duty game and then watching the action in slow motion. And, when you upload it on YouTube, you and your video both will be a super hit among your friends. Of course slo-mo will require a bit of video editing. Thankfully, Filmora Scrn also has an inbuilt, easy to use video editor (about which we will talk a little later). And if you need to record the screen at a lower fps, this tool will let you go as far down as 15fps.
Video Recording Using Webcam
Filmora Scrn is not just a screen recording tool; it also doubles as a video recorder. It captures your videos using the built-in or externally attached webcam. What I really like is that this tool lets you control the frames per second as well as the resolution for webcam recording as well. However, your computer must support this feature.
What's even more amazing is that Scrn allows you to record videos and screen at the same time in the picture-in-picture style. So, if you would like your face to snap around one of the corners of the screen during game play, Scrn will do it for you. This could be handy while creating online video tutorials as well.
AUDIO RECORDING
Audio capture is an essential aspect of screen recording. We have tested quite a few screen recorders and not many have lived up to the expectations. Filmora Scrn, however, has scored well on this front though. You can easily record the audio using a microphone while recording the screen. In case you have a built-in microphone and you don't want to record the audio, you can also disable audio capture. Although this tool can record audio through the built-in microphone, we would recommend an external one for better sound clarity.
Audio recording could come pretty handy while creating the online tutorials. You can add live commentary to the video. This you can also do while recording the game play if you wish to explain the ongoing activities on the screen.
VIDEO EDITING
We promised we will touch upon the video editing feature of this tool and hence here it is. The inbuilt video editor is another feature that sets Filmora Scrn completely apart from the other such tools. How many screen recorders have you seen that also pack a video editor? Not many I would say. I would also say that this is truly a treat. You don't have to spend any money on an additional video editor to retouch or enhance the recorded videos. And mark my words! You will want to retouch your videos.
Filmora Scrn isn't the most advanced or elaborate video editor. But, it does plenty of basic editing jobs really well. It also has a very well organized interface allowing incredible ease of use. Even if you are new to video editing, you will be able to create stunning videos with little effort and in no time.
When you launch the tool, it lets you choose between video editing and recording. Also, when you are done recording, it will ask you if you would like to export the file to its internal video editor. But, that does not mean you can only edit the videos recorded using Filmora Scrn. You can edit any supported video file on your computer.
HOW TO DOWNLOAD AND USE FILMORA SCRN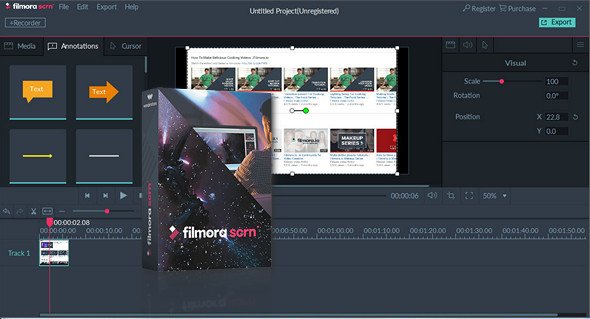 Download and installation is easy!
The first thing you need to do is download Filmora Scrn from the official website: https://filmora.wondershare.com/screen-recorder
This tool is available on Mac and Windows. Choose the version accordingly.
Filmora Scrn is a premium tool with tiered pricing. For $19.99 you get 1-year license for 1 PC. For $29.99 you can buy a lifetime license for 1 PC (a much better deal I would say; lifetime license for just $10 extra).
If you would like to test the waters before diving in, you can first download the full-featured, unlimited trial version. But, remember that the trial version watermarks all your videos.
Record & Edit Your Footage With Filmora Scrn- Easy Guide
Now that you have downloaded and installed the tool, you will want to quickly get started. This part is easy too.
Launch Filmora Scrn and you will be presented with the 'Get Started' screen. As aforementioned, here you will see two options:
Quick Capture: To quickly start recording your screen or videos using webcam
Video Editor: To edit one of your recorded videos or any video on your hard drive
When you click on Quick Capture, you will see a small overlay on the bottom right of the screen. You can start recording by clicking the big Red button on the interface or by hitting keyboard shortcut F10.
You can choose a specific area for recording or the entire screen.
Once you are done recording, press F10 again to stop. On the next screen, you can choose the export the recording to the video editor or simply save it on your computer.
PROS AND CONS OF FILMORA SCRN
Filmora is a pretty decent tool to capture the screen and to record videos. It also does the basic video editing job for you.
What we like the most about this tool is that it is quite easy to use. It offers a neat, uncluttered interface making it a good utility even for the beginners. It has a wide fps range of 15 to 120. Then, there is picture-in-picture mode to create effective tutorials. And of course, not to forget, a pretty decent, inbuilt video editor.
Filmora Scrn does affect the game performance at times thereby degrading the game play experience. That's what we don't quite like about it. Sometimes the impact is quite apparent. You are going to need a computer with more than just 'decent' specs for a better experience.
Other than this, there is nothing more unfavorable we could scoop out. Overall, it is a good tool to have, especially considering the price tag it comes with.
Many may say the video editor lacks advanced features. I would say, that's pretty okay. Filmora Scrn isn't supposed to be a full blown video editor. Video editing is just a supplementary feature. If I want more advanced features, I would rather buy a better video editor.