Firestick is a small media dongle that streams content on your TV. It is plugged into the HDMI port of your television set and lets you stream wide content from popular services such as YouTube, Netflix, Pandora, Hulu, HBO and more. Designed and marketed by Amazon, this portable media device also includes a remote control that can be operated using voice commands or with buttons. The latest version of Firestick also comes with a Virtual Assistant called Alexa. In simple words, Firestick can convert any HDMI TV into a Smart TV with amazing ease.
Kodi, as you may already know, is one of the most popular media players of today. The beast Kodi can convert any device into a media server and let you access wide variety of content from the web. Earlier, you could download Kodi from Amazon store, but now it has been removed. However, you can still get it using one of the many workarounds available. Kodi is as good as the builds and add-ons installed. Ergo, once you have installed Kodi, you will need to find to find the right builds to make the best use of it on FireStick. This is why we have rounded up some of the best Kodi builds foe Firestick for you.
Nemesis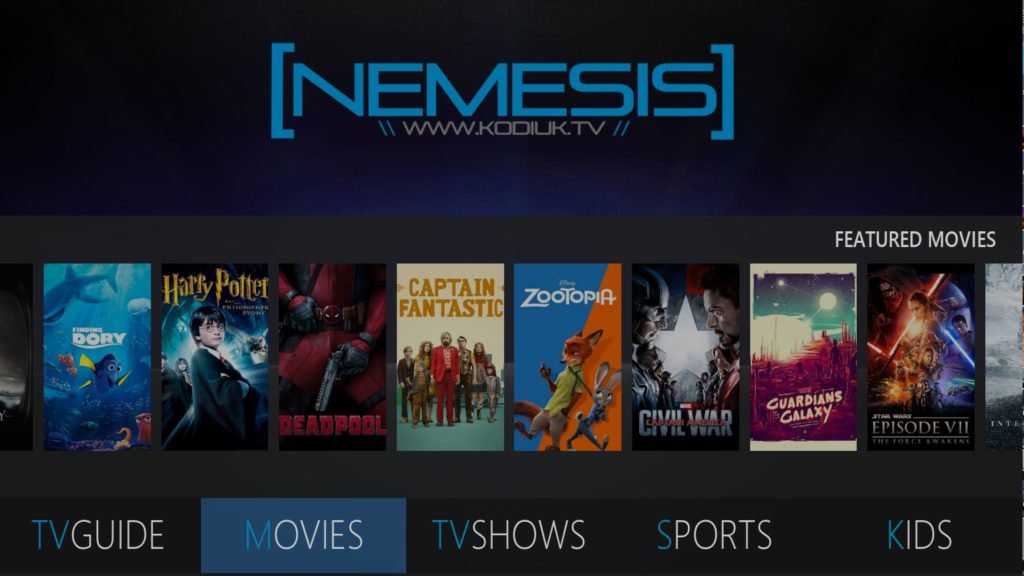 Nemesis is easily one of the best Kodi builds you could get for Firestick. It brings a number of popular add-ons together, eliminating the need to install multiple builds. For instance, it packs Cartoon HD, which is an incredibly popular add-on. One thing that will make you love Nemesis instantly is its clean and organized interface. It is very easy to install and of easy to use.
Nemesis is a pretty lightweight build that can run easily on all Firestick devices with Kodi installed. Navigation is quite a breeze because you can jump to your favorite add-on straightaway without having to search for it.
Apollo
Apollo is an extremely popular build for Kodi on Firestick and other compatible devices. The interface is aesthetically appealing and can be made to look better with the personalized skins. But, Apollo is not just all about the looks as it gives you access to a wide range of exciting features as well.
It has just about every popular add-on that you could possibly ask for. Apollo packs more features than most other builds for Kodi. In spite of being so heavily loaded, it is surprisingly very stable and lightweight. You will have a great experience even on the devices that run on low power, such as Firestick. It is not completely devoid of crashes but they are far and few.
Rays Kodi Build For Firestick
Firestick is a wonderful streaming and media device if you were to run lightweight apps and add-ons. The problem with the advanced builds is that they are heavily loaded and do not offer stable performance on Firestick. But, that's certainly not the case with Rays. This build has been specially designed keeping Firestick devices in mind and thus it offers great performance without any lags or crashes.
Now, you may not find the interface as incredible as you might like but what sets this build apart is that it is highly functional on Firestick with Kodi. It is quick, streams fast, and is highly responsive.
The Beast
You must have noticed that most of the Kodi builds for Firestick focus on a particular genre or category of content. Sometimes, you might want to have access to wide variety of content without having to install multiple builds. Firestick is a low-powered device and thus is sometimes incapable of supporting lots of builds at one time. This is where The Beast build comes into the picture. It offers you a wide variety of choices and it has just about everything you and your family may want to stream.
Dad Life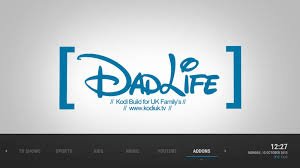 Dad Life has emerged as one of the most used builds for the Firestick devices with Kodi. This build has made in-roads into a number of devices and there is a reason why. While Dad Life does not boast of a wide range of content, as mostly it gives you access to the media content from UK, it is still a great build to have. It does not also have a huge collection of add-ons, but the ones that it has picked are truly awesome.
This way, it filters in only the good quality content and makes sure it is easy on smaller devices like Firestick. It has everything a family may ask for including content for kids and adults from several categories including motorsports, football, and other games.
Evolution
Evolution too has become one of the most installed Kodi builds. If you are looking for a build that gives you access to good quality content and has a fresh look to the interface, Evolution could be your pick. This build looks more futuristic than the others in the list so far. But, it is more about just the looks. It packs a number of add-ons popular on Kodi.
However, family entertainment remains to the principle focus of this build. Evolution works fine on Firestick most of the times. However, it is a bit heavy and you may experience a bit of sluggishness and some crashes.
Wookie Wizard
You may wonder why it has been named Wizard. Well, the answer is pretty simple. Versatility is what sets Wookie Wizard apart from the rest of the builds on this list. Wookie is an open-source build, which is actually not a single build but a pack of three. Not only does it let you stream the content from the web, it allows you to stream your personal content at a very low price.
But, this build is a bit heavy and may not function very well on Firestick. Thankfully, there is a toned down version called 'Lite' which runs perfectly fine on small devices like Firestick.
FireTV
Need we say anything more? The name itself explains which device this build has been especially designed for. No prizes for guessing – it is for Amazon's Firestick. This build has been designed by the popular website owners FireTVGuru. Customized for optimized performance on Firestick dongle, FireTV is a lightweight and extremely efficient build.
It packs a number of features and offers high-speed streaming. You will experience some lags but that's the case with almost all the builds running on this dongle. If you are stuck or need help, there is decent support available on the Facebook group called FireTVGuru.
Megaminds Wookie
The very first thing you will like about this build is its very stylishly created interface. The beautiful looking front of Megaminds Wookie is very appealing to the eyes. But, we will be honest in telling you that it is not exactly the most easy-to-use build you will see. It is a bit on the 'advanced' side and thus you will feel comfortable with it only if you have been using Kodi for a while.
Once you find your way through it, you will find it to be very functional. It brings plenty of add-ons from various popular categories at one place. It has just about every type of content you can ask for including sports, classics, animation, movies, and more.
Hard Nox From Spinz TV
Hard Nox is another effective build you can install on Kodi for Firestick. It has been created by Spinz TV, one of the most popular add-on developers for Kodi. Hard Nox offers a very good looking interface with elements organized in a clean and uncluttered manner.
The layout is very user-friendly, allowing you to look up for any content you want very easily. This build streams the content from some popular add-ons such as Phoenix and Exodus. You can pick the content from various categories listed on the build. This is the best Kodi build for firestick.