A lot of people use the same or similar password across various apps, platforms and services. This is because they do not want to forget their password and lose access to their account. If truth be told, that's not a very healthy practice. If someone gets hold of your password for one account, they could gain unauthorized to all your accounts. For instance, if you have the same passwords for Facebook and Online Banking, the chances of security compromise are more serious than you can imagine.
Managing different passwords is not easy, especially if you have various accounts to log in to. Thankfully, there are password managers that can make your life easier and make sure your security is never compromised. In this article, we list the top 10 best free password manager you can use this year. From strong encryption technology to automatic form filling, these tools offer you everything. Take a look!
Recommended: 10+ Best Password Manager Apps for Android, iOS, Mac and PC
10 Best Password Manager Apps 2019
Dashlane
No other such tool is quite like Dashlane I believe. It is one of the strongest and most powerful password managers out there. This tool offers a wide range of features to make sure you never experience any difficulties keeping and managing your passwords. What I really like about is its interface, which is to say the least, is very user-friendly and intuitive. It packs just about every function (and more) you can expect from a password manager including 2-factor authentication and AES-256 bit encryption. This tool captures your passwords automatically and ensures simple, single-click login every time. It also supports all the popular apps, browsers and platforms. Dashlane would also save your debit/credit card information so that you could use it quickly while doing online shopping. And, it makes sure your card information remains safe.
The app also offers a dashboard from where you can see a variety of details pertaining to your passwords and accounts. If you happen to have a weak, easy to crack the password, Dashlane will warn you of it. Dashlane is available on iOS, Android, Mac and Windows. It is one of the best free password manager with limited features. To unlock all the features you can buy a premium subscription of $3.33 per month.
Get It Here: Download 
LastPass
Before we start talking about this tool, it would be remiss of us to not mention one critical piece of information about LastPass. This tool experienced a setback a couple of years ago when some hackers breached the security and pulled out the password hints. Thankfully, the master passwords were too strongly encrypted to be hacked and no major security compromise happened. But, it did tarnish the image and reputation of the company back then. LastPass has upgraded the security features and has done some reputation salvaging, but there is still some way to go.
That said, I will still insist that LastPass is one of the most reliable password managers out there and if I didn't love Dashlane as much, I would certainly go for it. After this incident, LastPass has become stronger than before; all the more reason for you to use it. They use AES-256 bit encryption with enhanced security reinforcements. Just like Dashlane, LastPass too captures your passwords quickly and automatically. It is designed for all the major mobile and computer platforms including Android, iOS, Mac and Windows. LastPass offers browser plugins that keep an eye on all your passwords. LastPass is also one of the most cost-effective password managers. Priced at $2 per month, it certainly offers way more than what it's worth.
Get It Here: Download
Sticky Password
There is a chance you may not have heard much of Sticky Password. It isn't exactly as popular as the others on this list. But, it is a great tool to use. Like the others, it also offers 2-factor authentication and AES-256 bit encryption. What I really like about this tool though is that it introduces biometric functions as well. It supports fingerprint authentication. Sticky Password uses a powerful and reliable encryption system that makes sure your passwords cannot be hacked. The app allows access through a master password. You need to make sure you don't lose it or you will never be able to get into your account.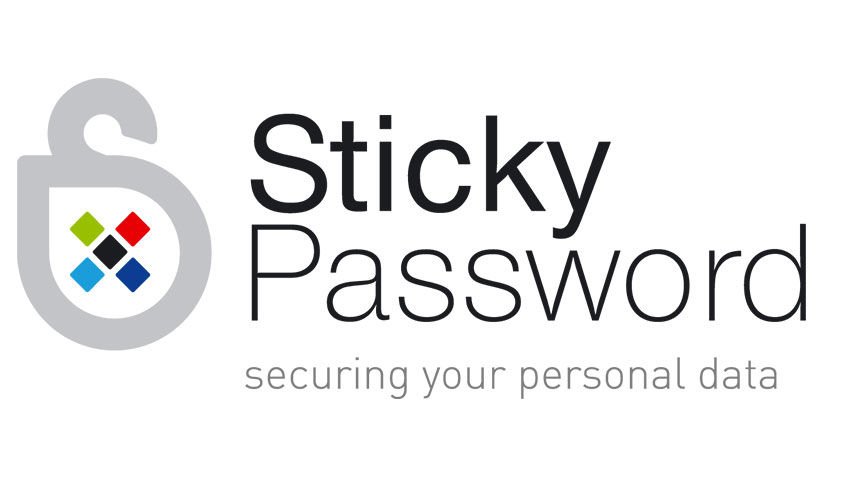 Sticky Password has pretty much everything you can expect from a good quality password manager. If you use multiple devices, it also makes sure that you don't have to save your passwords individually on each device. It will sync all your passwords and other personal information across many devices you use. But, it does it without bringing Cloud in the picture. All the devices must be on the same Wi-Fi network for sync to happen. This is another security measure.
Sticky Password is available on Android, iOS, Mac and Windows for $29.99 per year. You can buy the lifetime license for a one-time fee of $149.99. Sticky Password may not have the most user-friendly interface, but once you have worked your way around it, you will find it easy to use. It is also quite affordable.
Get It Here: Download
1Password
About a couple of years ago, 1Password was perhaps the most used password manager. It is still quite popular but the others have managed to surpass it. Nevertheless, it continues to be one of the best password tools and was every bit meritorious to earn its place on this list. This tool is designed to save your passwords and encrypt them using the A-256 encryption technology. But, unlike the others, it does not offer 2-factor authentication. I am someone who is too concerned about my digital security. For me, 2-factor is a must. But, if that doesn't bother you as much, this tool could be for you.
1Password offers a very user-friendly and minimal design. It looks neat and well organized and allows incredible ease of use. It is capable of storing loads of passwords and other information. I believe that the biggest hiccup is the price tag at which it comes. There is a free version but honestly, I don't find it of much use. There is the tiered pricing of $2.99 and $4.99 per month. The latter version is the most expensive and unlocks all the advanced features. But, there are better, more advanced and less costly options out there.
Get It Here: Download
LogMeOnce
LogMeOnce is, by far, the most innovative password manager I have seen. I was totally blown away by the kind of features it incorporates. You will get to see biometric authentication integration on many tools, but this one is quite unique. In order for the biometric authentication to be successful, the device in question must be biometrically capable. And not a whole lot of devices offer such capabilities and thus so many of them are left out. But, with LogMeOnce biometric authentication is possible even if you don't have a capable device. How's that? Pretty simple I would say. When you log into your computer using this tool, it will take your photo from the webcam. It will then send this photo to your mobile. If your face matches with the photo, you will be logged in automatically. And, if someone unauthorized tries to force their way into your device, the tool will take their mugshot and save it on the device. This is how LogMeOnce makes everything password-less.
Make no mistakes however. Even though it does not mandate the master password, it is still very secure. It uses the AES-256 encryption technology backed by the powerful algorithms called Salt & Hash. LogMeOnce is a cross-platform tool available on Android, iOS, Mac, Windows, and Linux. It has a native app for Android & iOS mobiles. For computers, it only has browser plugins at this time. It has a free version with limited features. For advanced features, there is a premium of $1 and $3.25 per month.
Get It Here: Download
KeePass Series
If you are someone who loves everything that is "open-source", here are the KeePass series of password managers for you. Since it is open-source, the tool is completely free of cost. The word "free" leads us to think that it might not be as capable. But, the truth is that it is nearly as capable as any other on this list. This is why I would like to say that 'free' is not its biggest attribute.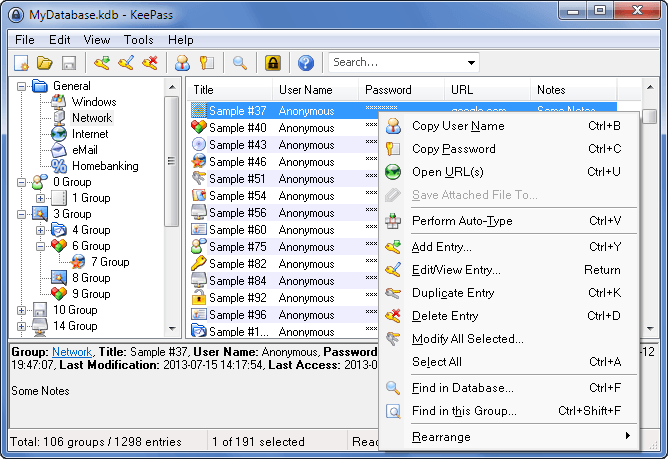 Currently, there are three variants of KeePass, namely KeepPass 2, KeePass X and KeePassXC. As far as the design, coding, and algorithm are concerned, they are all the same. All three variants offer same features as are equally strong. The only difference is in the device platform they are designed for. While KeePaas 2 is a Windows variant, KeePaas X is meant for Linux. KeePass X, on the other hand, works on all the platforms including Windows, Linux and Max.
KeePass has some drawbacks too. It does not offer the sync feature. Hence, all your passwords can only be saved locally. But, the silver lining is that your passwords are safer since they are not stored on cloud. The other problem with KeePass is that it does not have a very user-friendly interface. That's the case with most open-source tools though. It will take some doing for you to understand and get used to the interface.
Get It Here: Download
Padlock
Padlock is also an open-source password manager. But, it is not quite like KeePass tool we just talked about. There are some marked differences. First of all, it is not totally free. There is a free version but with limited capabilities. The full-featured version is priced at $3.99 per month. Second of all, its user interface isn't as bad as KeePass's. In fact, it is pretty good looking and easy to use. That's probably because it is a paid tool. This cross-platform password manager is available on Android, iOS, Mac and Windows.
Padlock offers strong authentication features. But, what's truly surprising is that it lacks some of the very basic features. It does not capture your credit card information, does not auto-fill the forms and also would not sync your information across devices. If it were free, I would have understood. But, such a price tag isn't justified with so many features lacking.
Get It Here: Download
RoboForm
RoboForm has recently emerged as one of the most comprehensive and secure password managers. What's even more amazing is that it is available on more platforms than most others here. As expected, it is supported on Android, iOS, Mac and Windows. At the same time, RoboForm is also available on Linux and Google Chrome operating system. It is pretty good I will say. It automatically captures your passwords and other login details. And, what I like the most about it is its ability to auto populate the web forms in almost no time.
It incorporates the AES-256 encryption like others. In addition, it also features fingerprint authentication, which in my opinion is always a big plus. But, it is not foolproof. For one, it lacks a solid 2-factor authentication. I believe that 2-factor authentication is the most basic feature and every password manager must have it. If you wish to save your credit card details, you are going to be out of luck again. Yes, it tries to make up for what it lacks in features with an affordable price tag. But, most users would rather spend a little more than having their security compromised. I am not saying that RoboForm is not secure. It uses the most advanced encryption algorithms. A little bit of added security, however, is not just desirable but much needed these days. RoboForm is available for $19.99 per year.
Get It Here: Download
BitWarden
Well, the name says it all. This tool claims to be the warden to the vault where all your passwords are stored. BitWarden is relatively new and for now, it is also the cheapest on this list. Priced at $10 a year, it draws some attention. But, don't prejudge the quality just because it carries a smaller price tag. It is more cost-effective because it is based on an open-source platform. It does offer some really cool features though.
BitWarden makes it a litter lower on this list because, if I could speak frankly, it is not the best. It drops many features. For starters, it doesn't have any desktop app for computers. You will need to use the browser plugins. The good news is that it has plugins for all the major browsers. Also, it has mobile apps for Android and iOS.
BitWarden is quite new and has not withstood the test of the time yet. But, if you want to try out something new and affordable (and open-source of course), you could give it a try. It has a pretty decent looking user interface. So, it should be easy to use.
Get It Here: Download
True Key
True Key is Intel's very own offspring. That must make you wonder why it should make it so down the list. Well, it could have been easily placed somewhere on the top but for the fact that it does not offer you any desktop application for computers, it slips down to this position. I would also say that it is better than a few other password managers we have featured in this article.
It has all the features you could expect including 2-way authentication, AES-256 bit encryption, web form auto-fill, etc. It also saves your credit card details automatically. There are many ways to access your vault. Besides the master password, you can use fingerprint authentication or face recognition. You can also use the trusted devices for access. And yes, it also lets you sync the information across devices. TrueKey has an app for Android and iOS and web plugins for computers. You can buy it for $19.99 a year.
Get It Here: Download