'Service Registration is Missing or Corrupt' is one of the common issue that many Windows 10 users run into. Unfortunately, Widows Update troubleshooter isn't quite capable of resolving this issue. More often than not, we will have to find manual solutions to get rid of this nagging error message. This issue usually happens when a Windows update did not install properly or the update process was interrupted. You are more likely to see this problem with new Windows 10 installations than on the computers with the OS installed long time ago.
The one thing I always recommend to all my readers is to never ignore or defer any Windows Update. When your computer notifies you of an update and prompts you to install it, do it as soon as possible. While the update is being installed, do not turn your computer off or disable internet connection.
In this guide we will learn how to troubleshoot the issue at hand. There are multiple solutions and I am confident one of them will work for you.
METHOD 1: REBOOT WINDOWS
Rebooting your computer refreshes the operating system and fixes many issues. Rebooting also refreshes the installed applications and registry.
It usually only takes a few minutes to restart your PC. Even though there is a little chance that it will fix the error Service Registration is Missing or Corrupt, there is no harm in trying. If rebooting resolves the issue, you will have saved a lot of time and effort.
You may shut down the PC or laptop and power it back on or you may simply restart it.
In case this doesn't fix the problem, move on to the next method.
METHOD 2: RUN THE COMMAND SFC/ SCANNOW FROM THE COMMAND PROMPT
This method is more likely to solve the problem than rebooting. It's quick and easy. Here is what you need to do:
Navigate to Command Prompt from the Start menu. Or, you can type in 'cmd' (without quotes) or 'Command Prompt' (again without quotes) in the Cortana search box on the task bar.
Right click on the Command Prompt icon and select 'Run as administrator'
Run the following command by typing or copy/pasting it: sfc /scannow
Hit 'Enter' after entering the command
You will now see the message in the Command Prompt saying 'Beginning system scan. This process will take some time.
It might take a few minutes. Wait for the process to complete.
Once the system scan is complete, exit Command Prompt and reboot your computer. There is a good chance the issue will be fixed.
If the problem still persists, try the next method.
METHOD 3: RUN SERVICES RELATED TO WINDOWS UPDATE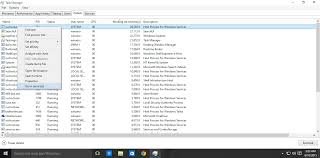 If you have recently installed any antivirus or Internet security software on your Windows 10, there is a chance it might have altered some of the Windows Update services triggering the 'Service Registration is Missing or Corrupt' error. Even if it has been a while since you installed any security software, it might still be the culprit behind this issue.
We will fix it by running the services related to Windows Update. Here is what you can do:
Press the Window Key + R to open the Run dialogue box
Type in services.msc
Press Enter or click 'OK'. It will open the Services window
Alternately, you can type 'Services' (without quotes) in Cortana search box and click 'Services' from the search results
Now you will see a huge list of all the services running or inactive on your computer. You need to find 'Windows Update' from this list.
Make sure that the 'Extended' tab is selected on the bottom
Sort the list by Name (tap the Name column) and then scroll down to Windows Update
Right click on Windows Update and select 'Properties'
A new window will pop up. Select the General tab on it if it is not selected already
From the 'Startup type' dropdown select 'Automatic.'
Click 'Apply'
If the 'Service status' says 'Stopped' press the 'Start' button
Again click 'Apply' to save the changes
Reboot your computer
Once that's done, follow the above steps again to also start the following services:
– Background Intelligent Transfer Service

– Cryptographic Service
Reboot the computer one more time after starting these services.
Once Windows 10 has rebooted, navigate to Settings >> Update & Security. Now click on 'Check for Available Updates.'
If any updates are available, make sure you install all of them.
Also Read: Bypass Jailbreak and Install Kodi on iPhone 
METHOD 4: RUN ALL THE WINDOWS UPDATE COMMANDS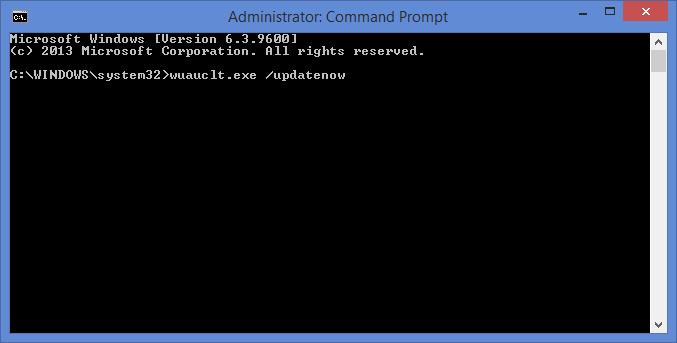 There is a fair chance that one of the above methods will fix the 'Service Registration is Missing or Corrupt' issue. However, in a rare event you continue to face the problem, it will be worthwhile to run all the commands related to Windows Update.
All the commands will be run from Command Prompt in the administrator mode. Here are the steps:
Type in 'Cmd' (without quotes) in the search box (Cortana) on the task bar
Right click 'Command Prompt' icon in the search result and select 'Run as administrator' on the pop-up
Now run the following commands one by one:

i. net stop wuauserv

ii. net stop cryptSvc

iii. net stop bits

iv. net stop msiserver

v. ren C:WindowsSoftwareDistribution SoftwareDistribution.old

vi. ren C:WindowsSystem32catroot2 catroot2.old

vii. net start wuauserv

viii. net start cryptSvc

ix. net start bits

x. net start msiserver
Once that's done, reboot your computer and check if the issue is resolved.
METHOD 5: TURN OFF WINDOWS FIREWALL TEMPORARILY
In all likelihood, you would have taken care of the issue and there wouldn't be any need to disable the firewall. But, if the problem persists and continues to bother you, you may want to disable Windows firewall for some time. Here are the steps:
Open Control Panel (search for it in Cortana)
On the top right, if 'View by' is 'Category' then click 'System and Security' followed by 'Windows Defender Firewall' ('Windows Firewall' on some computers). If 'View by' is 'Small icons' then click 'Windows Defender Firewall' directly from the list
Click 'Turn Windows Firewall on or off' on the left sidebar
Turn Firewall off for both Private and Public Network Settings
Click 'OK'
Reboot your computer.
Note: Make sure you turn Windows Firewall back on when the issue is resolved
METHOD 6: DISABLE ANTIVIRUS OR ANY SECURITY SOFTWARE
Sometimes the security software installed on your computer (such as an antivirus) interfere with the regular functioning of Windows OS. There is a chance that your antivirus may be causing the Service Registration is Missing or Corrupt issue.
Turn the security software off and reboot your computer to see if the issue is resolved. The antivirus icon is available on the system bar on the bottom right. Usually, you can disable it by right clicking on the icon and choosing the 'Disable' option. However, the method may vary across different software programs.
CONCLUSION
Service Registration is Missing or Corrupt is a very common issue and very much on the radar of Microsoft. This is why there are plenty of fixes for it. A single solution may not always work. This is why we may have to try more than one of them. The above solutions are known to fix the issue and I hope this guide helped you get rid of the problem too. If you have any questions or suggestions, please feel free to let us know through the comments sections below.