Reddit is an aggregation tool for the social news. It is one of the most popular social media tools of today. But, in spite of being so popular, its design is still quite outdated. There are many aspects of the site which are not exactly very user-friendly. Thankfully, we have some incredible extensions that make your Reddit experience better. Let's take a look at some of them! Here you will get to know about best chrome extensions Reddit users can use and these Reddit chrome extension Reddit must have apps.
This item is called a suite for a reason. Reddit Enhancement Suite comes packed with loads of modules that enhance your Reddit experience. The list of modules is very long and the scope of this article will not allow us to cover them all. This is the best chrome Reddit enhancement suite android app. However, we have listed some of the best ones you would love to use:
Block NSFW Content: Reddit has an inbuilt feature to block the NSFW content but honestly it isn't very effective. Reddit Enhancement Suite, on the other hand, can do the job in a much better way.
filteReddit: This module lets you personalize and customize the Reddit homepage by removing unneeded subreddits.
Inline Image Viewer: Want to see the videos and images on the Reddit front page? You can do that by turning this module on.
User Tagging: This feature lets you tag your friends. You can also give your friends a label. By doing so you will be able to track the desired users easily in the comments.
Never-ending Reddit: If you would like to see an endless line of posts on your the Reddit front page you can turn this feature on. You will also be able to see Subreddits with this.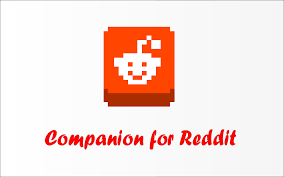 What if you don't want to go to the Front Page of Reddit every time you want to share a web page? This could be some hassle. However, you don't need to do this any longer as the Reddit Companion extension lets you share a particular web page directly from Chrome. You just need to make sure that the web page is loaded on the browser and the tab on which it is downloaded is currently active. You will simply need to click the extension and a toolbar will appear on the top with many options.  You can add your own title for the post and click on the submit button. Of course you will now be redirected to the Reddit website wherein you can add more details and Subreddits. Just make sure that you are logged in to Reddit. You can also enable the notifications feature, which will show you the message notifications on Chrome.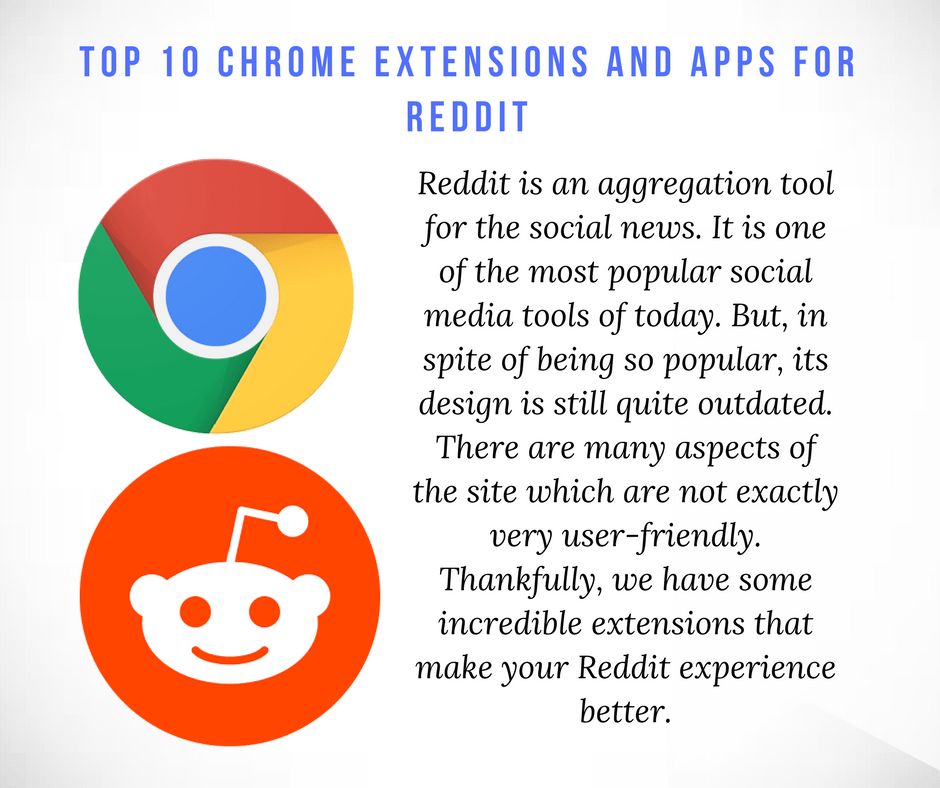 One of the most incredible things about SHINE for Reddit is that it has given a complete makeover to the Reddit interface. Reddit is an extremely popular community website but it looks like they haven't done much to the interface in a long time, which has started appearing outdated. If you want a new appearance and better Reddit experience, SHINE for Reddit is the extension you should install.
SHINE offers you two ways to have the content displayed on the screen. You can use the 'all-new' view, which allows you to look at the videos, pictures, GIFs, and comments without having to open a new tab. You can also use the grid view. In both the views, the idea is to bring the Reddit content to the forefront in a more organized and visually appealing manner. It borrows many elements from Material Design concept and thus it looks pretty good.
This extension can also be integrated with Reddit Enhancement Suite. While SHINE is free to install, there are many features that do not get unlocked unless you have made a payment, which is in the form of donation.
Reditr is another Google Chrome app that completely restyles the appearance of the Reddit website. But, it is not quite like SHINE as it works in a very different manner. If you have ever used TweetDeck for the social media giant Twitter you will feel very familiar with the layout and appearance of Reditr. This extension for Reddit lets you see the content in columns that are filled with live feeds continuously that can be scrolled on end. You can customize the columns to display your favorite topics, subreddits, topics, multireddits, and searches.
Besides the Column View, this extension offers another display option called Stream View, which lets you see the content on a single screen with previews. It is much like the preview pane of the Outlook client we are accustomed to.
Although Reditr is primarily used as a Chrome extension, you can also download it as a standalone application on Mac, Windows, and Linux computers. It is completely free to install and use.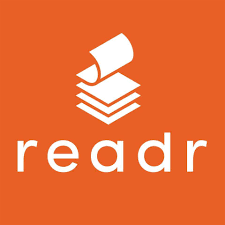 Comments are an integral part of any posts on Reddit and they truly enhance your overall site experience. There are some subreddits which are extremely popular and users like long comments on them. AskReddit is one such subreddit. Here you get to know the experiences of different people through the comment section. Some of the comments can get really long. Unfortunately, when it comes to handling and displaying the long comments, Reddit falters really badly.  If you wish to make comment reading easier and more fun, try Readr Chrome extension. It lays out the comments in a very clean and uncluttered manner so that you can read them easily.
Below every Reddit comment Readr adds a link 'read' (which can also be moved to the top of the comment). When you click on that link a new box pops-up where you can read that comment. Once you are done reading, simply click on 'Done Reading'.
Images are also an extremely important part of the Reddit experience. In fact, a lot of posts that get the most upvote count consist of the images. But, as a user, dealing with the images on Reddit could be pretty frustrating at times. When you click on the image, it opens in a new tab. If you are using an Imgur image you are redirected to the Imgur page. This could be pretty inconvenient as you have to juggle with different tabs and windows. But, it isn't difficult anymore. You can use the popular Chrome extension called HoverZoom+ to have a better image viewing experience.
All you need to do is hover the mouse cursor over the Reddit image and you will be able to zoom into it. HoverZoom+ is not a Reddit exclusive extension. It will work with any web page that contains the images either in PNG or JPG format.
The ability of this extension is not just limited to zooming in on the images. You can also zoom in the videos by hovering over them. Again, that is not it! The extension also picks up all the images on a web page and sorts them in a gallery. You can use keyboard shortcuts to view the gallery and even save the pictures on your hard drive.
If you don't want to use this app with all the sites, you can restrict it to specific sites and web pages. So, if you want you can make it exclusive to Reddit.
Reddit isn't just about text or image posts; you can also create a Reddit thread with a video. You can pick the videos from the popular video portals like YouTube. The YouTube users would know that the comments section could come pretty handy to get the useful information in many cases. But the problem is that if you have enabled comment on a YouTube video you will see some spammy, undesired comments as well. What if you could see the Reddit comments below your YouTube video? Yes, it is totally possible with AlienTube.
As you might have already guessed, you can see the comments from Reddit only on those YouTube videos which have been posted or shared on the Reddit site. This only makes sense! The comments can also be customized in many different ways. Also, if you do not want certain subreddits to appear on YouTube, you can get them restrict them.
See It extension takes your Reddit experience to a completely different level. It lets you preview all the links you have hovered over. Even the links you have hovered over very briefly appear as a preview. See it creates a small, new window for each link on Reddit. There is no limit to the number of preview windows that can be opened on the screen. If you think that the screen is getting too cluttered with the previews, you can minimize the windows or even close the undesired ones.
See It will open all types of links, whether it is anchor text or image link. However, when too many links are open you may experience a bit of slowdown. Thankfully, See It allows you to choose which types of links will open and which ones will not. For instance, you can disable the image link preview.
Reddit Mini, as the name suggests, is the miniature version of Reddit. It gives you easy access to Reddit with just a single click. You can also get access to your favorite subreddits from just about any web page you like. Reddit Mini is accessible on any Chrome tab you want.
Using Reddit Mini is pretty easy. Install and enable the extension and you will see the icon on the extension bar on chrome. Click the icon and a pop-out panel will appear. Now all you need to do is key-in the subreddit name you wish to see and it will get loaded. Reddit Mini lets you view the subreddit and even the comments. But, you will not be able to comment from the panel.
The extension also expands the images to the full view by default. It does the same to the videos. But any self.text post cannot be expanded. If you are looking for instant access to the subreddits of your choice and like viewing Reddit images, Reddit Mini is a good extension to have.
There are some posts on Reddit that get a lot of comments. These are usually the more popular posts. But, when there are lots of comments it could also get very chaotic. Every comment thread can have a subthread of its own. Keeping a track of the trail could also get extremely difficult.  Unfortunately, Reddit hasn't yet found a way to deal with the mess these long trails of comments create. Of course, there is a '-' button to collapse a comment and a '+' sign to expand it. But, you can easily lose the track of the comment thread. Fortunately, there is Reddit Comments Collapser to your rescue. This extension separates each thread with a dotted line of different color from the start to the end of the thread. This lets you keep a track of the comments easily. This is the Reddit must have apps in my list so you should give it a try.