Over the last few years, several instant messaging services have emerged and had also become immensely popular. In spite of this, SMS still remains as one of the most common mobile activities. But, SMS costs money and usually more than the instant messaging services that use internet network to deliver messages. Also, when you send SMS, the recipient can see your phone number. But, what if you do not wish to reveal your identity to the receiver? The good news is there are plenty of online services that offer you anonymous text messaging services. What's even better is that most of them are completely free. These sites which are added by us can be used to send anonymous texting to any number.
Anonymous texting or messaging could be great fun if all you intend is to play a harmless prank with someone you know, such as your friend or family member. Or perhaps you wish to report a criminal activity to the law enforcement team without revealing your identity. What we are trying to say is that it must be put to good use. Harassing or spamming someone is not only immoral but also illegal. We do not encourage or promote the illegitimate or unlawful use of this service. In this article, we bring to you top 10 websites to send an anonymous text for free.
TextEm.net is one of the most viable options to send anonymous text messages. It is an easy to use website and quickly delivers the messages. But, you could only send the messages to the phone numbers from the mobile carriers in the United States. In other words, the recipient's mobile number must be registered in the USA.
In order to minimize spam, the website requires you to first register with your email address before you could send text messages. Also, you must know the mobile carrier or service provider of the recipient's phone number as you need to select it in a drop-down.
What's really good about this website is that it also lets you receive messages from your recipients. That could prove very useful in case you have lost your cell phone or it is in the repair center. TextEm.net also lets you block numbers from which you do not wish to receive messages.
TextEmNow.com could easily be one of the most reliable and effective services to send anonymous text messages. Unlike TextEm.net, this website lets you send SMS to international locations as well. The website also ensures that the process is super easy and completely hassle free for the users. You do not need to register and create an account in order to send messages.
TextEmNow offers free text messaging service even to international locations. As per the site's Privacy Policy, all the information provided remains safe and is not shared with the others. We have tested this site and it does not spam your number or the numbers of your recipients.
You can send as many messages as you want through this service. The layout of the site is a little tricky as you must scroll down all the way to the bottom to use the service. But, that's okay as we get to send free unlimited messages.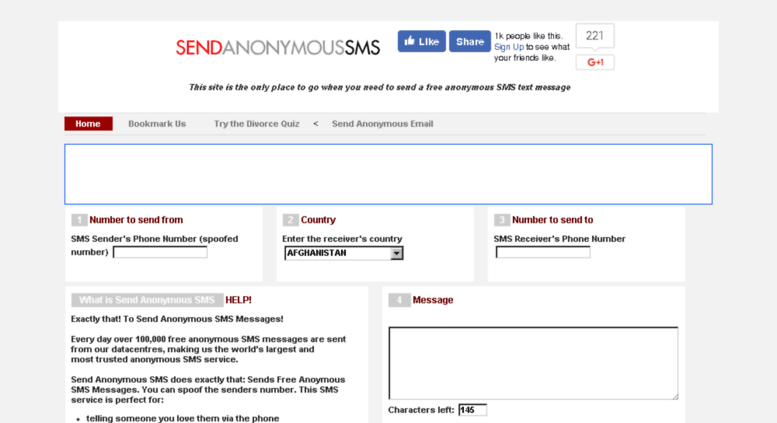 Well, the name tells of the site tells you all. This service allows you to send anonymous texting messages to any mobile user residing anywhere in the world. What we like about this site is how straightforward they have made the entire process. All you got to do is go to sendanonymoussms.com, choose the country of the recipient, enter recipient's phone number with country and area code and hit the send button.
The site also has the option called "Number to send from". In this section, you can enter your number as the sender. But, it also allows you to enter a spoof number. This simply means you can pose as someone else by entering any number of your choice. Please note that we do not intend to encourage our readers to impersonate with a fake identity. This is only for informational purposes.
This website keeps your personal information private and safe. However, it may sure the details and IP address information with law enforcement if directed by the court of law.
SeaSMS.com is another web service that lets you send free and anonymous text messages to other mobile users. But, it is not a completely free service. There is a limit to the number of free messages you can send. Once the free quota is exhausted you will need to buy one of their premium packages to send more messages. If you need to send a one-off anonymous message, SeaSMS.com is a good option. If you need to send such messages regularly and you don't wish to spend anything on it, you could look for other options.
SeaSMS is a pretty reliable messaging service, which is extensively used by various companies to send bulk messages as the part of their promotional campaign.
TextForFree is another incredible option to send free and anonymous text messages. This website's services are largely restricted to the United States. The company is beta-testing the international messaging service as well. But, since it is in the beta phase it may not function properly.
While TextForFree.net lets you send anonymous text messages, it is still completely legal. It requires you to register with your email address. It also records your IP address when you send a message. Do not worry! They don't share your personal information illegally.
TextForFree.net is free for the most part. However, they also have a premium service with added and enhanced features. For instance, if you have a paid account, you can schedule the text message to be delivered at a future date or time. What we really love about this service is it lets you send the group messages as well. This isn't the feature you will find on other sites.
You can send plenty of free anonymous messages without having to opt for the paid service.
If you are looking for a fuss-free, easy to use anonymous messaging service, TxtDrop.com could be your perfect choice. You can send plenty of free message from the web interface. But, you will love the fact that this service also has functional widgets for Windows and Mac platforms. Well, now you can send anonymous texting messages right from your desktop. What's even more amazing is that it also has an app for iOS devices. If you own an iPhone and want to send a text message free of cost, get this app.
TxtDrop.com is as easy to use as it looks. Firstly, you don't have to register. You can get started straight away. Secondly, it has a pretty simple and clean interface for hassle free use. Just enter the mobile number of the intended recipient, your email address and the content of the message you wish to send and click the SEND button. If the recipient replies to your message, it will be directed to the email address you provided. Awesome! Isn't it?
AFreeSMS.com is also a quick and easy way to send anonymous text messages to mobile users almost all over the world. The service doesn't force you to register and there is no also any need to provide your email address. When you open the website, you are presented with the world map on the homepage. Click on the continent where your intended recipient resides. On the next page, select the country your recipient's phone number belongs to. Now, all you need to do is enter the mobile number to which you wish to send the message, type in the message, enter the verification code (captcha) and press Send button. You may need to enter the area code if there is any. Each message is restricted to 160 characters. But, you can send multiple messages. On the same page, you can see the list of the supported mobile carriers to which you can send the message through this website.
SmsFlick.com is a pretty decent option to send text messages while keeping your identity concealed. It supports a wide range of countries across the globe and a number of mobile carriers. You will first need to register and create an account before you can start sending text messages. The website interface is user-friendly. Unlike many other sites on this list, you will find it clean and clutter free. To prevent spams, you must enter the verification code before sending the message. SmsFlick offers fast and reliable service. The only challenge is that it restricts each message to 100 characters. You may need to send several messages to communicate.
AnonTxt is a wonderful platform to send anonymous or prank messages to the others. This site too offers a straightforward process with a simple and easy to use interface. The various elements of the website are very nicely and neatly laid out. You can start sending the messages straight away as there is no need to register or create an account. In other words, it is totally hassling free. You just need to enter the phone number and type in the message you wish to send. It also has Alias and Subject fields but they are optional. But, if you are looking for international messaging service, this isn't the site for you. You can send messages only to the numbers in the US and Canada. The service is completely free and you can send as many messages as you want.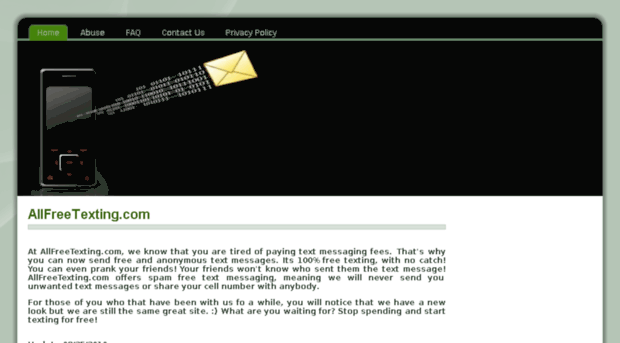 No need to pay any fee to send messages as AllFreeTexting.com lets you send SMS free of cost. This anonymous online text messaging service would let you send messages to international destinations as well as in the United States and Canada. Using AllFreeTexting is super easy. Enter the phone number of the recipient, type your message, and click 'Send the Text' button. Do not forget to prefix the phone number with the area code while sending international messages. This site delivers your messages to all the mobile carriers in the US and Canada and hundreds of international carriers. This service is totally free to use.
I think now it's clear that how to send an anonymous text to any number using these websites or services. Now no more need to search for how to send anonymous text.