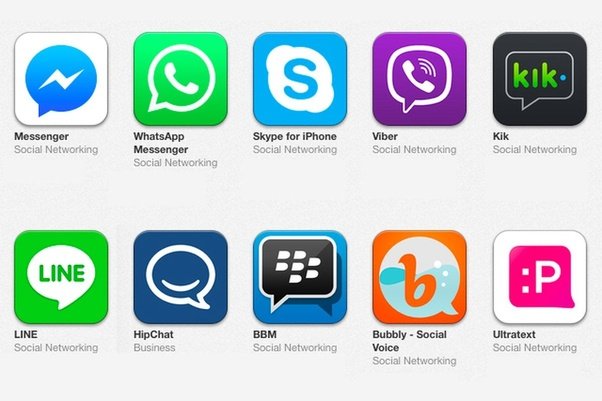 Text messaging is an incredible way to communicate and stay in touch with the others. No wonder why so many instant messaging applications, like WhatsApp, Hangouts, and Facebook Messenger have become so popular.
While it may seem that the instant messaging apps have rendered the SMS inessential, the truth is pretty far from it. Still, a large number of people use SMS for personal and professional communications.
There is no denying that the default messaging apps that come bundled with your smartphone are clumsy at best. If you are looking for enhanced SMS experience, take a look at this list of texting apps for Android we have compiled for you.
The apps given below are way better than the default android messenger because, in these apps, you can personalize everything according to your choice. They provide you custom themes and a lot more awesome features.
Let us proceed to the list
Chomp SMS
Chomp SMS is undeniably one of the best texting apps for Android. It boasts of more than 10 million active users at this time. Chomp is extremely popular and not without reasons. Not only does this app allow you to customize the user interface, it also has a huge repository of exciting emojis. It is also compatible with the apps like Pushbullet allowing you to transfer the SMS content to the PC or laptop.
Chomp also allows you to schedule the text messages. For instance, if you wish to send a "Happy Birthday" message to someone at 1200 hours even when you are sleeping, Chomp SMS will do it for you. It also comes packed with a number of other incredible features such as app locker, contact blacklisting, favorites, digital signature and more.
In simple words, Chomp SMS completely enriches your text messaging experience. Here is the list of some more features offered by this app:
Capability to password protect particular conversations
Backup and restoration of the SMS
Group messaging
Go SMS Pro
Go SMS Pro is definitely a go-to choice for those who want to enhance the SMS functionalities. It offers a visually appealing design and plenty of features to make it a must-have for SMS users. The app comes bundled with awesome features such as the private box, message scheduling, sticky chats, avatars and more. The free version of the app displays ads. To unravel all the features and to get rid of the ads you can buy the premium version.
The app has been developed by Go Dev, the company that has already made immense contributions to the Android Play Store. Go SMS is also compatible with the phones with dual SIM cards, allowing you to manage messages from two numbers separately.
Top Features of Go SMS:
Lots of skins and themes for easy customization
Private chatting with a private box
Message scheduling
Sticky conversations
Web-based application also available
Block spam messages
Backup and restoration of the messages through cloud
Handcent Next SMS
Handcent has been around for more than 5 years now and has provided quality service to millions of users. This app offers a number of features, but what makes it unique is the capability to sync the contacts to cloud storage. This is something you don't get to see very often with such apps.
Another great thing about this app is that it allows you to send text messages using a computer or laptop. You will not even need to lay hands on your smartphone. There is hardly any doubt that sending and receiving messages using the keyboard of the computer is much easier.
Here is the list of top features of this app:
Features custom fonts, skins, and themes for the chat windows
Allows you to send bulk SMS messages
You can use the Private Box feature to password protect certain conversations
Allows quick backup and recovery of the SMS messages
You can schedule the SMS to send at a later time
You can group message with Handcent
Supports many different languages
You can also sign in with your FB account to sync FB contacts
Evolve SMS
The neat and totally clutter free layout of the app makes it one of the most amazing SMS tools in the Play Store. But, it is not just the looks this app has to offer; it has plenty of features to offer too. Some of the distinct features of this app include bulk message removal and widgets for the lock screen. Evolve SMS is inspired by the material design of Google+ and thus looks pretty elegant.
It has complete support for multimedia, allowing you to send videos and images easily. It lets you reply to the conversations right from the notification bar.
Here is what you get with Evolve SMS:
The app is completely free
It offers nearly 1000 emojis
Easy accessibility with lock screen widget
Protects your privacy with password for conversations
Offers easy navigation
Offers integration with Facebook
Lets you schedule your messages
HoverChat
Hoverchat is a very unique text messaging app for Android devices. It was previously available by the name Ninja SMS. So, what makes this app unique?
If you have used any of the SMS apps, you must have also noticed that they open full-screen and hide any other application. But, this is not the case with Hoverchat. This app simply pops up a small window and allows you to chat from it. This means that you don't need to exit the application you are currently using in order to use Hoverchat. You can continue doing whatever you were doing before you got the text.
But, this does not mean you cannot use it full screen; in fact, you can whenever you want to. It also features floating windows that can be easily dragged and dropped.
The free version of the app offers many basic features. The premium version unpacks many more advanced features.
Google Messenger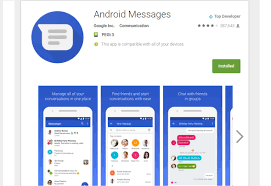 Google Messenger is a totally free app, but honestly, it doesn't have much to offer in terms of features and functionalities. If you are someone who is looking for a lightweight SMS app for Android with an incredible material design that offers little more than basic text messaging, Google Messenger is perfect for you.
Google Messenger does offer some fun features though. For instance, it lets you search for a text message or within a text message; it lets you share your location, and also allows you to archive the messages.
Basic features of Messenger by Google include
Faster Sharing
Easy Search
Purposeful design
More control
Other features such as Emoji Support, Stickers, location sharing etc.
Source: Google Play Store
QKSMS
QK SMS makes text messaging extremely convenient and easy. It can take care of all daily messaging needs and tasks with amazing efficiency. QK SMS is a feature-laden app that also offers a very elegant design. You can pick from a number of colors to customize the appearance.
The free version of QK SMS offers lots of features. However, if you wish to use all the features, you can buy the premium version only for $1.99. It will give you access to many advanced functionalities and plenty of themes for customization.
Top features of QK SMS:
Hassle free texting with ad-free display
Plenty of themes and modes to choose from
Toggles between day and night modes automatically
Pop-up notifications for new messages
Supports group messaging
You can schedule text messages
Signal Private Messenger
If truth be told, Signal Private Messenger is more of an instant messaging app like FB Messenger, WhatsApp or Hangouts, which also doubles as a SMS app. This dual functionality actually works to its advantage. Those who wish to integrate SMS functionality to instant messaging enjoy this app. This app also features the phone number system. If you are sending a message to someone who doesn't have this app, the message will be sent as SMS.
The Material Design of this app is really awesome. The app is completely free and there are absolutely zero in-app purchases. Not only can you send text messages with this app, you can also make phone calls or start group chats.
Textra SMS
The user interface and appearance are the elements that make Textra SMS stand apart from the rest. Inspired by the material design of Android Lollipop, Textra has become visually more appealing. Also, it has a huge collection of themes that help you customize the appearance to your mood and liking. It also features the smart auto-mode that alters the themes automatically.
But, it's not just the stunning appearance this app has to offer; there is much more. It is a very light app and barely occupies any storage space. At the same time, it is packed with lots of awesome features.
Textra allows you to delay or schedule the SMS, use the camera to instantly send pictures, and also lets you backup and restore the SMS messages. It also offers compression and SMS bomber features.
Textra is also compatible with PushBullet, allowing you to push the contents to computer screens.
Here is a quick look at some of the features of this app:
It is light and efficient
Supports more than 100 themes
Full support for MMS
Filters spam messages
Mute or block specific conversations
Saves the images and videos automatically
Yaata
The last one in our list, Yaata is an awesome texting app that hosts a simple yet beautiful interface. The app is pretty fast as compared to others and gets your job done smoothly.
One thing that I like very much about YAATA is that it is very user-friendly. If you wish to perform a task through the app, you won't have a hard time finding how to do that task. So , Yaata is very easy to use.
Like all other applications discussed above, Yaata also comes with lots of features such as an elegant material design, lots of beautiful themes, different font styles , MMS , Group chats , Schedules messages etc.
Few other premium features include Auto Respond, Auto Forward, and Blacklisting. The premium version can be purchased by paying some nominal amount. If you wish to have the app without the premium features, you can download it for free from the Play Store. However, the premium version is way better and does not cost high so I would suggest you to go with the premium version only.
My SMS
If you are someone who totally loves to send and receive the SMS text messages on their computer, MY SMS is the app for you. This app offers cross-platform functionality making it one of the most useful SMS apps of all times. Whether you have a Mac computer or Windows PC, you can exchange text messages with the Android users easily. Those who have to spend hours on the computer would love this app as they will not need to reach out to their phone to send messages.
But there is something more! This app allows you to record your voice phone calls on your computer with incredible ease. This feature isn't very common. Besides this, you can import and export SMS messages, schedule the messages, and do a lot of other things.
My SMS doesn't offer a lot of customization options but utility wise it is just amazing.
Here are some of its great features:
Syncs the texts and logs easily
Offers cross-platform functionality
Allows you to backup and restore SMS messages quickly
You can send messages from a computer using your phone number
Easily connects with popular cloud services such as Google Drive and DropBox
Hello SMS
If you want to make SMS messaging more convenient and stylish, try Hello SMS. This app offers a very simple and yet highly effective user-interface. What's really amazing is that it features tab-style text messaging. This makes chatting with multiple users very easy.
The app also lets you import your conversations from popular messaging apps such as Gmail, Facebook Messenger, and more. This feature-rich app allows you to schedule the messages. You can also back and restore the messages to the cloud.
Here are some more features of Hello SMS:
Support for Group Chat
Plenty of customization options with lots of skins and themes
Easy navigation with tab-style interface
Light and easy to use
Wrapping it up
This was the list of the best texting apps for android. We have tried to enlist all the popular apps and have also tried to put up their main features from our personal experience. Some of the matter is taken from the Google Play Store and the rest is all what we personally experienced.
If you think that your favorite texting app is missing from the list , do let us know through the comment section down below and we will make sure that we will add the app you suggested to this list.
In case you liked the collection and feel like supporting us, take a moment and share this post with all those you think would be in need of it.