You are here: Home / How to tips / How to Make a Collage on Instagram?
Instargram is insanely addicted. We at BloomTimes are in love with it. We recently published few posts, one with a list of cool instagram usernames for girls and guys and one on, how to be famous on instagram.
Instagram is surely one of the most famed social media apps to upload and share pictures with your friends worldwide, it's a world in its own where people connects and share their moments with each other, though those who are using this app from past couple of years are aware of its both boon and bane, the most common complexity people come across while uploading pictures on Instagram is the size of the image which is very small, in order to upload a complete picture on Instagram people usually uses third party collage maker to mash their couple of pictures together in one frame and then upload it on the Insta world.
Over a couple of years Instagram app developers have noticed this loophole in their app and hence have lastly come up with a new in-built technique to resolve this problem of uploading a complete picture on Instagram which is in the form of Instagram collage maker i.e., Layout. The company officials have said that over 300 million monthly active users posts collages on Instagram which they create by using third party applications, as a result we decided to build Layout, which is company's second app which will be accessed by both iOS and Android users.
To use this app on your smartphone you first need to check whether it compatible with your device or not, after that go to the playstore and install this app on your device and then the rest is history, this app is so simple to use that even an amateur Instagram user can easily make a collage by using this app.
Features of Layout
The makers of Instagram have created Layout by focusing on making the app as simple as it could be; like in any other third party collage maker app you have to choose only from the different available grid designs to adjust your pictures and create a collage but in Layout-
You get an access to your camera roll from where you can pick a lot of picture, 9 to be exact.
And then the app would suggest you 6 to 12 different grid designs options to create a collage.
You can pick one of your choices and fix your pictures as per your desire.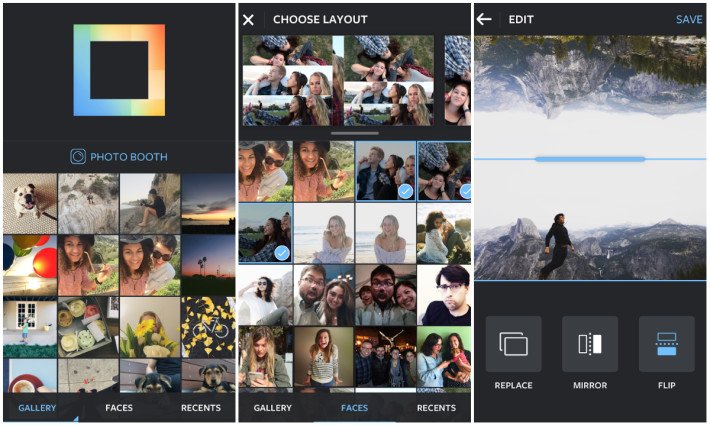 What makes it stand out?
I know you must be wondering you get these collage making features in some of the other third part apps as well but hold on
As Layout also lets you tweak your grids along with pictures to adjust the size of your pictures by stretching the grid lines to fit your picture.
You can also flip your grid to create goofy collages.
Not only this, you can also pan around each image inside the grid to make sure the crop displays the specific parts of your picture.
Creativity at its best
Instagram Layout app allows you to explore your creativity in making collages in comparison to other apps which only allows you basic editing feature to create a collage; Layout is simply the coolest in-built collage maker available on the social media as it offers you to choose from many abstract designs to create a collage.
Sharing is caring
Once you are done with tweaking your collage, you need to save it to your gallery- it's just a requirement and not an option.
This has been done because there are many users who like to compare different collages before posting it to their Insta timeline.
This helps you to publish and share your best collage on the Instagram.
Once you have chosen your best collage you can import it to your Instagram profile as well as share it on your other social media profiles, when sharing it on Instagram you can further edit your collage in the post-camera editing section by using different filters and other editing tools which you are quite familiar with.
Collage making has become an art these days and people are competing with each other over the internet to publish their best collages which would distinguish their pictures from the rest, a rather unique collage catches the attention of many whereas a simple collage only gathers the attention of few (at least that's what I believe)
In the midst of thousands of collage maker apps Layout is one such app which has gazed the attention of millions and definitely it's a revolution in the world of Instagram.
You may also like: How I use Tinder without Facebook
Conclusion
That's it folks! We hope you would have enjoyed reading this post and surely going to try making a collage in Layout, by the way to be very honest I don't think any written tutorial could make you "completely" understand properly how to make a collage on Instagram until unless you do it practically. So what are you waiting for, try it yourself and do post your experiences in the comments below.
We are trying our best to come up with the best posts for you so please if you enjoy reading our posts do share it with your friends on Facebook, Twitter and other social media profiles, a simple sharing would mean a lot to us. For more updates keep checking our site.
Reader Interactions