GIMP is considered to be one of the best free alternatives to Adobe's very popular Photoshop. GIMP is a feature-laden image editing application for Mac, Windows, and Linux operating systems. In spite of being free, this tool lets you create professional quality images. One of the best things about this open-source code is that it lets you extend functionality with plugin support. What's even more amazing is the fact that tons of free plugins are available for GIMP.
Installing GIMP plugin is easy. All you need to do is copy and paste the plugin or script files in the plugins or script folders respectively. These plugins bring several GIMP features and controls at one place and make your job a lot easier. We rally the top GIMP plugins in this article.
1. Save For Web
When you bump up the image quality in GIMP the file size also increases. Try to lower the file size and quality degrades. This could be pretty frustrating especially when you need to use the image file on the web. This is where this plugin comes to the rescue. It helps you strike a balance between the image quality and file size. It modifies various aspects of the image that tend to increase the file size but have no significant impact on the quality, such as a number of colors, the dimension of the image, compression ratio and more. You can download the plugin from http://registry.gimp.org/node/33
2. Layer Effects
GIMP has some built-in layer effects but they may not be adequate for complex projects. Layer Effects plugin fills the gap and supplies GIMP with myriads of effects for layer editing. Some of most popularly used effects are drop shadow, outer glow, stroke, gradient overlay, and more. While most effects are applied to the existing layers, many need you to create new layer. Layer Effects has a healthy collection and is good enough for most users. Download it at http://registry.gimp.org/node/186
3. GIMP Extensions Pack (Windows)
If you are looking for a plugin that packs a wide variety of plugins and utilities together, GIMP Extensions Pack could your pick. It comes bundled with lots of plugins and extras to enhance your image editing project. It also has lots of innovative brushes for unique drawings. This plugin is available at http://registry.gimp.org/node/27656. It is available only on Windows.
4. Resynthesizer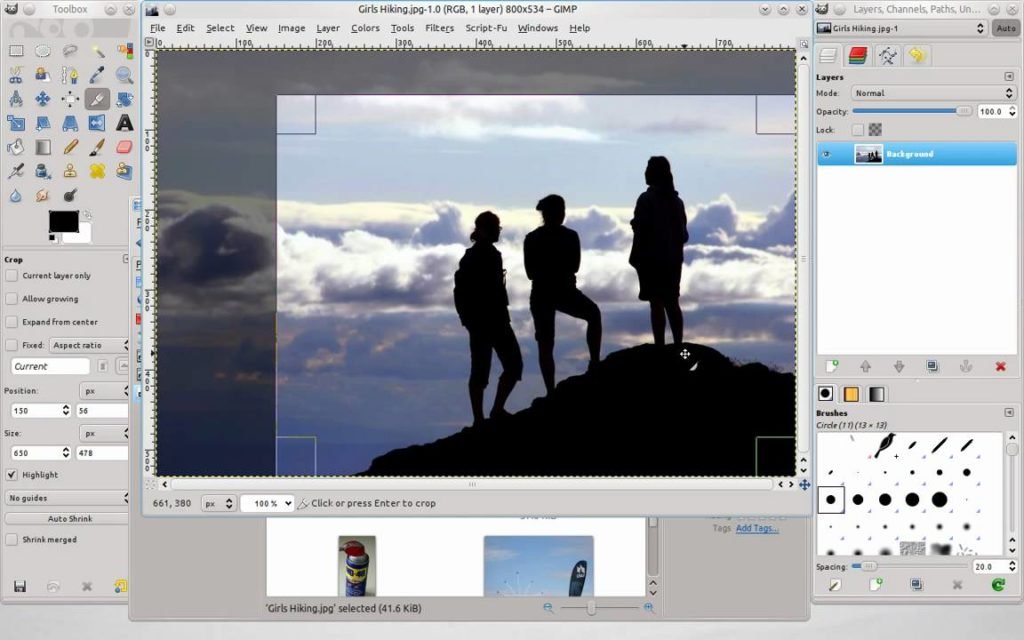 Just like GIMP Extensions Pack, Resynthesizer is also an assortment of plugins. It packs 10 plugins in total and offers several new features not present in GIMP's original version. This plugin extends the functionality of GIMP to a large extent and adds many new tools to it including Heal Selection. Download the plugin at http://registry.gimp.org/node/25219
5. Photo effects
GIMP encapsulates a pretty decent range of photo effects and filters. But, sometimes you may need more. Photo Effects is a very useful plugin that adds new effects to GIMP's list. This means you can enhance your images in many new ways. Some of the features included in this plugin are wrap effect, palette knife, solarisation, ink pen, and more. This easy to use plugin can be installed from http://registry.gimp.org/node/97
6. Draw Arrow
If you need to add arrows and arrow effects to your projects on a regular basis, you wouldn't find much help in the native features of GIMP. But, with Draw Arrow plugin you can add different types of arrows in your images. This plugin is very easy to use. It lets you add monochromatic as well as colorful arrows. It has arrows in a number of styles. You can also add arrow effects such as shadows, outlines, gradients, and more. Get this plugin from http://registry.gimp.org/node/20269.
7. Wavelet Denoise
Sometimes you click a photo and it appears perfect on the LCD of your camera. But, when you see it on the larger screen, the noise becomes apparent. Usually the photos taken in the lowlight conditions at low ISO contain lots of noise. You could use a variety of tools on GIMP to reduce the noise. But, Wavelet Denoise brings all the noise reduction controls on one window. This not only makes your job easier but also saves you a lot of time. Wavelet Denoise is available at http://registry.gimp.org/node/4235 and features a multilingual user interface, preview window, fast performance and effective noise profiling.
8. National Geographic Script
GIMP lets you process the high-resolution photos but the native tools may not generate the desired results. For example, wildlife photographs captured by the high-end cameras need special treatment. National Geographic Script is a special plugin for this purpose. It adds some additional, top-grade tools to let you edit the high-quality images. The plugin is easy to install and easy to use as well. You can download it from http://registry.gimp.org/node/9592.
9. Separate+
RGB is the most widely used color format across a variety of devices. But, some devices only support the CMYK format. On the other hand, you may have a CYMK format image, which you need to use on a RGB device. Separate+ plugin converts from RGB to CYMK and vice versa with incredible ease. Also, sometimes, for profile management purposes, you may need to convert an RGB file to RGB. This plugin does the job for you quickly. Download the plugin from http://registry.gimp.org/node/471.
10. Heal Selection
Ever felt the need to synthesize a part of the image? Image editing professionals often need to use the healing tool to rectify certain parts of the images. GIMP has a native healing tool but many do not find it very effective. The native tool is not as intuitive as you may like. But, the Heal Selection tool does the work in a much better way for you. Most of the times you will use this tool to heal parts of the images. But, you can also heal the entire image at one go if you need to. You can download it from http://registry.gimp.org/node/15118.
11. BIMP
BIMP, which stands for Batch Image Manipulation Plugin is one of the most popular GIMP plugins. If your project makes you edit multiple images, you will not find your way easy on GIMP for there is no native app for batch editing. But, you can install BIMP and edit as many images as you want simultaneously. The images can be cropped, resized, rotated, watermarked and renamed with the help of BIMP. You can preview the images while you edit them in the small preview window on the right. You can download it at http://www.alessandrofrancesconi.it/projects/bimp/
12. Contrast Fix
We need to edit the photographs because they are not always as perfect as we may want them to be. Lighting is one of the biggest challenges even the most experienced photographers have to wrestle with. We often end up clicking too bright or dark a picture. Thankfully, as long as the camera has captured the details, even if the picture is poorly lit, the contrast can be fixed. GIMP has some native tools for contrast control but they may not be as effective. Instead, you can download Contrast Fix plugin from http://www.farcrydesign.com/GIMP/ContrastFix.html.
13. Beautify
Beautify is, as the name suggests, about beautifying the images and photographs. In order to make your photograph more beautiful, you will need to use a wide variety of tools and make several adjustments before you get the desired result. Beautify plugin brings all the needed tools at one place and makes photo enhancement an incredibly easy task. Download the plugin from https://github.com/hejiann/beautify/wiki and retouch the photos in many exciting ways. This tool lets you remove distortion from the image, fixes the red-eye, does the color correction and a lot more.
14. Refocus
In order to get the perfect focus, you need to keep your hands steady and try to make sure that the subject is not moving. You don't always get to click the photos in the ideal conditions. If you are taking the photo in a hurry, your hands may shake. If the object is moving fast you may lose focus especially if you are using a point and shoot camera. Thanks to Refocus, you can revive the focus on the photograph to a great deal even if it has turned out to be blurry at the spots where it was supposed to be clear.  You can download the plugin from http://refocus.sourceforge.net/
15. Stitch Panorama
Modern still cameras and even smartphones allow us to capture the panoramic view of any place. But, you must have noticed that for most parts the results are far from desirable. The camera takes multiple shots and combines them in a very clumsy way. If you wish to create a high-quality panoramic image, you can use Stitch Panorama plugin for GIMP. It stitches and blends multiple images and creates a near perfect panoramic image. You can also enhance the quality of the image with the on-screen controls on the interface of this tool.
Conclusion
Plugins support is an important aspect of any photo editing tool. Thankfully, there are plenty to choose from for GIMP. The plugins not only offer enhanced functionality, they also act as shortcuts and save you time and effort.