Heard about McAfee? Obviously, you have. Forget about the tech buffs: even a common man will not fail to recall the name of this security software which stays on the tip of the tongue whenever anti-virus programs are talked about. In the midst of thousands of antivirus software's in the market McAfee is one of the most outstanding and widely popular antivirus softwares worldwide. There are millions and millions of people worldwide who rely heavily on this software to get rid of lethal computer viruses which are a common phenomenon in the internet world these days.
McAfee Security Center is a well-renowned software program that helps in detecting the presence of myriad of virus, spyware and malware in the computer system. There have been plenty of events when McAfee have had the accolades pouring in, thanks to the avant-garde solutions and an innovative chunk of ideas which have constantly ameliorated the computers' functioning. It comes pre-installed and can be re-installed by the user when the trial period ends. But, any user, who doesn't have a liking to the anti-virus program, might consider about removing it.
Earlier when it came to uninstalling the McAfee, the only norm was to go through the Add/Remove programs in the control panel. Soon, there came a time when many users found themselves on a sticky patch due to the problems they went through while deleting the complete gamut of programs. At such a juncture, the software giant went to a new length and unveiled 'McAfee Removal Tool', a 3MB product to delete McAfee completely from the system.
A How-to Guide on Uninstalling McAfee using its Own Ingenious Invention 'McAfee Removal Tool'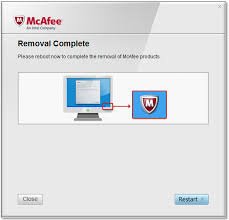 The McAfee inventors had been exhibiting a high degree of competence, when they trotted out 'McAfee Removal Tool' to the world. It was developed in the backdrop of the failure of many a regular removal process in deleting McAfee from the system, a situation that triggered a salvo of complaints. This invention sorted out everything, making the uninstallation process of anti-virus software as easy as winking.
McAfee Removal Tool is an excellent instrument which uninstalls McAfee without leaving its tiniest bit behind. It runs effortlessly on Windows 2000, Windows Vista, Windows XP and Windows 7. Though Windows 98 and Windows ME are a few exceptions, it can be easily downloaded from the McAfee official website, following a few single steps. Here is a complete list of components that are removed by the tool.
McAfee Easy Network
McAfee Privacy Service
McAfee Data Backup
McAfee Security Center
McAfee VirusScan
McAfee SiteAdvisor
McAfee SpamKiller
McAfee Personal Firewall Plus
McAfee AntiSpyware
McAfee Network Manager
McAfee Wireless Network Security
The Procedure is here…..
1- Go to the McAfee icon on your PC and right-click on the downloaded file. Soon, a drop-down menu will appear on the screen where you have to click the option 'Run as Administrator'.
2- A screen will surface with a 'Next' option at the bottom, clicking which you will be directed further.
3- Doing this, a dialogue box, technically known as 'User Account Control', will emanate asking your confirmation with regard to the removal of McAfee and its every component. Click the 'Yes' option.
4- The 'End User License Agreement' (EULA) window will enter into the screen where you have to tap on the 'Agree' button.
5- A 'Cleanup Successful' message will appear on the screen after which you will be asked to refresh the system at the end.
6- It may be possible that the MCPR tool communicates the attempt as 'unsuccessful'. Under such circumstances, click the 'View Logs' option in the notepad window. Select the file and click 'Save' the log with 'MCPR_date.txt'. For any assistance, give a call @ McAfee Technical Support. The executives will facilitate you in the troubleshooting process.
Holy cow! We hope you would get rid of McAfee from your Windows PC by following the above procedures, in case you don't get in touch with us so that we can suggest you some other methods to perform the requisite task. Now, before we wrap up we would like to tell you a secret that not all antivirus softwares are good to install, there are many antivirus software's available online which are nothing more than a headache to install and uninstall.
In our next post we would suggest you some of the best antivirus softwares which are currently available in the market that's both best and economical. One more thing before we conclude, before buying an antivirus from the market, do read its review by the users carefully to get an actual idea about the product's performance and whether it's worth spending money or not.
 You Might Also Like: Procedure to Delete SnapChat
As we all know the world is full of stupid people who format their computer just to get rid of an application which fails to unistall, we hope you are smart enough to understand that there is always a way if you have a will. Next time when you come across any such trouble related to your windows pc contact us for a technical advice, we would be more than happy to help you. As our motto is to get into touch with our readers personally unlike other blogs which only offers information but lacks personal touch in their writing.
Final Thoughts
For all other updates and latest news from around the tech world keep visiting our blog as here you will get the entire hottest tech buzz before it comes onto other blogs. We would also recommend you to sign up for our newsletter so that you get a notification every time we publish a new article on our website.
We are wholly convinced that you have felt delectation while going through this post. We hope we are leaving you with no doubt in your head. For more updates on the latest technology and tech news from around the world, keep checking our blog 'BloomTimes'. You can also share this article with your friends on Facebook, Google+ and other social media profiles. Have a good day!
Source:
Official McAfee Removal Tool (.Exe File)
UnInstall McAfee Security Center