You are here: Home / How to tips / This is How You Can Deregister iMessage and Facetime
iMessage and FaceTime are Apple's proprietary brands. While iMessage is an instant messaging service, a typical SMS-like carrier between the iDevices, FaceTime is Apple's very own video chatting label. And, that's not to say that both of the services are well-supported and very intuitive. Though these have been really brilliant at what they do, there's a petty inconvenience involved there. When you switch to a non-Apple device, you might need to deregister from iMessage, so that you can keep receiving messages even when you're on an Android device. Or else, you'll keep missing the incoming messages from people still sending you texts on iMessage.
What relief to know that the process of turning off iMessage is rather simple and quick. With just a few steps, you're sorted and can keep a tab on all incoming messages even on a non-Apple device. There are two ways to deactivate iMessage – with and without iPhone. We'll be discussing all the two methods in the next few minutes. So, continue reading.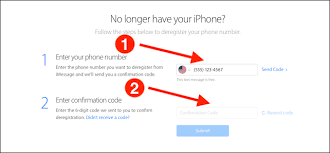 Method One: Deregistering iMessage on an iPhone
This method talks about deactivating iMessage and FaceTime before making a switch to an Android device. Here's how you can do it.
Go to Settings on your iPhone's home screen and scroll down the menu to find and select Messages.
Going there, you'll see that the Messages icon is enabled (turned on green). It's by default. You need to turn it off.
Now, go back to the home screen, select FaceTime and toggle switch to turn it off.
You've successfully deregistered your number from both iMessage and FaceTime.
Note: If you've transferred your SIM card from an iPhone to an Android device, you need to put it back. Also, make sure that your cellular connection/Wi-Fi is turned on.
Method Two: Deregistering iMessage Without an iPhone (Online)
Now, if you've already switched to a non-Apple device and don't have your iPhone anymore, deregistering from iMessage is still doable. To do this, you've to visit a dedicated Apple web page. This is how you can do it.
Go to 'Deregister iMessage' page on Apple's website. Tap here to reach the page.
Enter your phone number you want to deregister and wait for your 6-digit confirmation code from Apple.
Enter the code to confirm deregistration and select Submit. You'll soon receive a confirmation that iMessage has been successfully deactivated.
Deregister iMessage And Facetime- Final Words
Isn't that easy? Great to know that Apple is so thoughtful of its customers and keeps things so straight for them. So, at any time, you decide to switch from iOS to Android, make sure that you deactivate both the platforms for ease of communication. For more such how-tos, keep visiting BloomTimes. For any query, suggestion or feedback, drop a line to us in the comments section below.
Reader Interactions